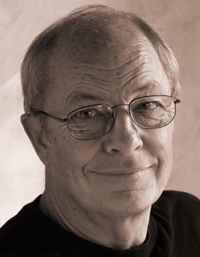 Dr Tim Rudman is a quadruple Fellow in Photography and the Arts, a member and past chairman of The London Salon of Photography and a member of the Arena group of photographers. He sits on the Royal Photographic Society's Distinctions Panel for Visual Arts, and was a founder member and subsequent chairman of the Distinctions Panel for Photographic Printing.
He was awarded an Associateship by the India International Photographic Council, for services to photography, and holds the distinction of Excellence of the Federation International de l'Art Photographique. Tim's work has been widely exhibited in over 25 countries, receiving numerous international awards and is held in a number of permanent and private collections.
In addition to several hundred published articles on photography and printing released in Europe, America and Australia, Tim has published three previous books. The first, The Photographer's Master Printing Course, was an instant best seller and has been regularly reprinted and recently revised. This was followed by The Master Photographer's Lith Printing Course, which was widely acclaimed and remained until now the only book available on this beautiful process. The Master Photographer's Toning Book: A Definitive Guide to Creative Toning Techniques was published in 2002, also to excellent reviews.
Visit Tim's personal website at www.timrudman.com.
Read what people are saying about Tim's work:
"Lith printing is a subject which Tim Rudman has made very much his own. It is unlikely that anyone else has researched the subject so thoroughly ... Whilst he is the leading authority on the subject, he is also someone who cares passionately about sharing his knowledge in a readily comprehensible and digestible form, so this book is suitable for both the complete novice and the experienced darkroom worker. ... I doubt it is possible to heap too much praise on this book. It is beautiful to look at, rich in information and a model in clarity. For any serious darkroom worker ... it has to be a 'must'."
"Back in October we introduced you to the wonders and secrets of lith printing. If you got bitten by the bug, then you should definitely buy this book. ... practical advice to take the reader from a basic understanding of black & white to lith printing ... finishing with some advanced techniques ... accompanied by comparative images, many of which are simply stunning."
"Tim ... the ultimate guru on lith printing techniques ... holds back no secrets in this definitive guide. The book's 10 chapters cover not only basic and advanced aspects of lith printing ... but also toning, bleach and redevelopment techniques and lith lookalike effects ... supplemented by a trouble shooting guide, useful tables, glossary and a list of suppliers."
"A very useful book - every time I open it I find a new and interesting idea."
"The Master Photographer's Lith Printing Course is the definitive guide to lith printing. After reading it I adjourned to the little darkened room ... and produced the best set of lith prints that I have ever made."
"This is one of the best organized and most informative technical books on photography I have ever read. I thought I knew quite a bit about toning, but there were more than a few things for me to learn from Tim Rudman. For instance, I didn't know about a two-step bleach and tone selenium sulfide toner, or about the variety of effects that can be had from different types of bleach used before toning.
Tim Rudman's explanations are the epitome of clarity, and the book is full of gorgeous illustrations that demonstrate the multiplicity of possibilities. There are chapters on sepia, polysulfide, selenium, gold, iron, copper, Manotone, tea and coffee, selective toning, multiple toning, dye toning, negatives, print finishing, archival permanence, and a complete toner formulary.
An indispensible reference, this book is highly recommended."
"If there is any negative thinking about the darkroom in the light of the digital march, then this book will develop plenty of positive thoughts."
"The intrinsic beauty and creative potential of the lith printing process accounts for its recent enormous rise in popularity. This book, by the acknowledged master of this process, is aimed at all levels from the first time lith printer to the advanced darkroom worker. This is the first book ever published that has been totally dedicated to this stunning and unique process. A must for all darkroom enthusiasts."
"... A long overdue book ... The Master Photographer's Lith Printing Course demystifies lith printing, allowing everyone to create prints of extraordinary beauty ..."
"Lith printing, and the infectious development which gives it its special look, is the photographic epitome of the phrase "to them that have shall be given". Infectious development is where developer reacts most strongly and quickly with the heaviest exposure. Dr. Tim Rudman's book features a simplicity of explanation coupled with detailed information for those who require it. The book also contains immensely detailed comparison shots showing the broad range of effects available. It lists all the available materials, and a selection of easy to follow explanations showing how each technique is achieved. As well as demystifying the evocative jargon which any novel printing technique inevitably attracts, the author shows the sheer depth of his research by identifying the colour change sequences of different papers when they are lith developed. This is the only book, to my knowledge, which deals with lith printing in anything like a detailed manner. Fortunately, it is a cracker, and if the idea of expanding your darkroom bag of tricks by a huge degree attracts, it'll be the most worthwhile £20 you spend."
"There is no doubt in my mind that this new treatise on the techniques of lith printing will become the standard bible on the subject - which should be read and digested by all seriously interested in the art of monochrome printing... Highly recommended."
"A masterpiece.... Tim Rudman has produced the definitive guide to toning techniques: comprehensive, thoroughly practical and easily understood. Full of useful tips, inspiring images and previously well kept secrets, this is the manual that no self-respecting darkroom worker will want to be without."
"This truly excellent book should be on the shelves of anyone claiming to be a photographer."
"For those who haven't seen it yet, take it from Better Photography that this is a must-have publication for the serious darkroom worker."
"This extraordinary book is a labour of love, and it shows. It is set to become the classic work on the subject."
"The book has been specifically designed to enhance the skills of toning experts, as well as to show beginners the various options and provide them with a good start in the toning art."